News
After WOŚP
After WOŚP concert in Warsaw with Jerzy Owsiak - the creator of Przystanek Woodstock festival.
And the review about the performance: http://sercedoserca.com.ua
Date: 16.01.2013 | Views:
PanKe Shava in final of WOŚP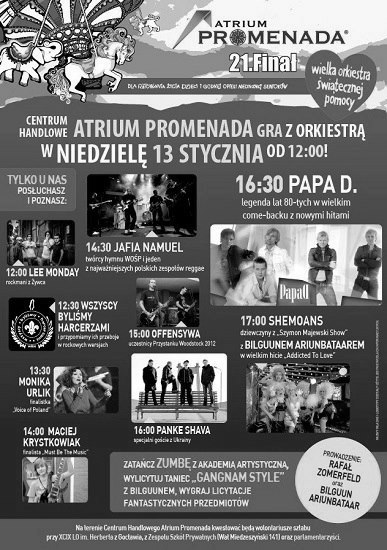 On January'13 PanKe Shava will play in WOŚP (Great Orchestra of Christmas Charity) final performance in Warsaw.
Date: 09.01.2013 | Views:
The first concert in New year
For the first time in new year PanKe Shava will come on stage with new staff, review the results of the previous year, its most exciting events and pleasant memories.
We will be immensely pleased to see the old friends and make new ones, because the New Year is the time for wonders!
Date: 31.12.2012 | Views:
[ 1 ][ 2 ][ 3 ][ 4 ][ 5 ][ 6 ][ 7 ][ 8 ][ 9 ]